Join dainty and submissive "Nice" Jessica Hale and her "Naughty" Mistress Pamela Kayes as they traipse around in revealing outfits with suitcases filled to the brim with sex toys, testing their luck in smokey casinos, and fucking in the back of taxi cabs… These cute bsdm-loving girls can't get enough of each other… Naughty might even let Nice cum if she's a good girl!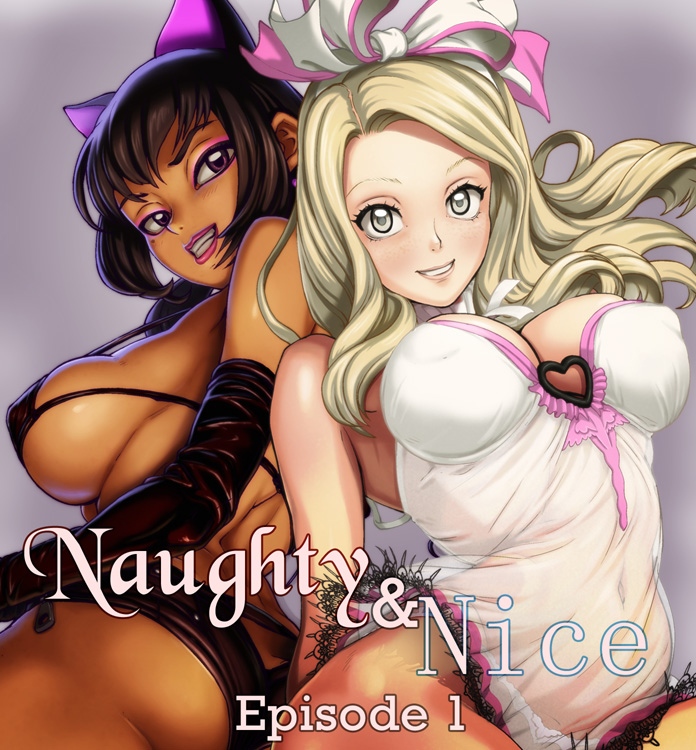 Here's a peek at the first chapter in the Naughty and Nice series.
Naughty & Nice - Episode 1: Hot Tub
Written by aristocrat
The sleek air conditioned room of the hotel was in stark contrast to the hot temperature outdoors. Modern convenience made life bearable in the desert, and it was a good thing too. If not, there was no way anyone would willingly make it their destination for a vacation, other than the very adventurous or the very desperate. Though sometimes those types came anyway, regardless.

After a long drive, Jessica wanted nothing more than to strip down and relax with a warm bath. The hot water did wonders for her built up tension, easing her stiff muscles, taking pressure off her tired joints, and caressing her skin sensually, slowly moving up her inner thigh...

She gasped suddenly, her body jumping involuntarily as she let out a high-pitched "Eep!" It took a moment for her brain to catch up with her vision and realize the movement she had felt on one of her most sensitive places was the hand of her good friend Pamela, who had let herself into the bathroom without her noticing.

"Naughty!" said Jessica, regaining her sitting position as the bathwater shifted. "What do you think you're doing?"

Pamela smiled. A warm, predatory smile.

"Watching you relax. You looked so peaceful... I thought I could lend you a hand and stroke away that tension even more." Pamela slowly wagged a wet finger at her. Jessica sighed.

"You could at least have started off with a kiss," she said, the idea giving her goose bumps already.

"In that case..."

Pamela quickly shifted position to press her lips against Jessica's. Soft crushed velvet met with wet, peach-scented fruit. Small sucking noises reverberated through the room as Pamela extended her tongue to eagerly trace the outline of Jessica's mouth. Jessica needed little encouragement. She accepted Pamela's invitation and slowly parted her lips, wincing happily as she was overcome with the strong muscle that pressed inside her. She began to arch her own tongue against Pamela's, twisting and wrapping together in a hot caress. Pamela's hot breath met the walls of Jessica's cheeks and Jessica couldn't help making a little muffled moan. Pamela's tongue rolled around Jessica's mouth as she pleased and pressured her bottom lip, greedily lapping at all of her juices she had to offer. Simultaneously, she brought up her idle left hand to skim the water of the bath until her fingers found purchase on Jessica's chest. Her fingers traced wet outlines around the soft skin there until she found the sensitive, erect flesh that was Jessica's nipple. She poked and prodded it with her wet finger, even teasingly scratching at the pink nub with her nail. Jessica shuddered, sending a shiver through her body that was perfectly transmitted to Pamela through their shared French kiss.

She loved playing Jessica's body like that. As if she were a master musician playing a rare and valuable instrument.

Pamela drew back from the kiss slowly, letting Jessica whine in disappointment as they separated, her cheeks tinged pink. Her eyes watched in delight at Jessica's engrossed face realized she was breaking the kiss, but she kept her finger where it was: teasing her nipple more and letting her know they were far from finished.

"What do you say I join you in that big tub?" Pamela whispered. She knew full well Jessica would have no complaints. Jessica's lips tightened in a playful grin.

"I think if you climb in here, bathing will be the last thing on our minds," Jessica said. It was far from an objection. Pamela smirked.

"What's a vacation if you don't mess around?"

Pamela stood up. If Jessica had been too busy to notice before, she realized now Pamela was also completely nude. Her powerful legs rising as she stepped into the tub, the waves rippling across the waterline as she descended with a twist of her hips next to Jessica, the proximity made apparent by the friction of Pamela's supple leg against hers. Jessica liked that feeling, and brought up her own leg to trace needy movement against her partner's skin with her softened toes. Pamela leaned back and stretched out her arms, the relaxed posture letting the water pool between her ample breasts.

"I wonder, if you experimented with this yet...?"

Pamela's hand reached a small knob on the side of the tub. There was a quick turn of her wrist and the water-jets that Jessica hadn't noticed turned on. The rush of warm water filled the tub accompanied by a slight 'wum' sound from the motor.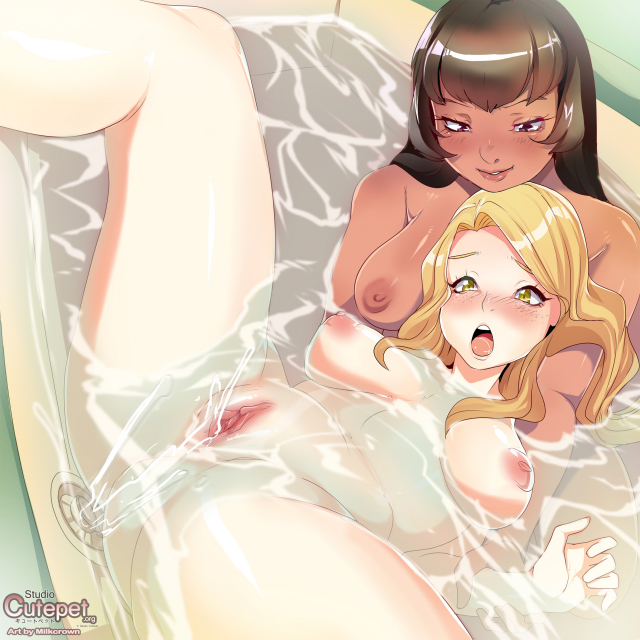 Art by Milkcrown. Click Image to view full gallery
Tiers who can view: Sliver | Gold | Prime

"Oh... these are nice," Jessica said, the sudden currents pumping against her lower body. She turned her head to note the position of the valves, which distracted her enough for her to be surprised again as Pamela dipped her arm under the water and slowly began to pull Jessica's legs up by her ankles.  Jessica turned her neck toward Pamela to ask her just what she thought she was doing.

"Nice," Pamela said, the gaze she held with Jessica's eyes left the submissive girl breathless. "I'm going to make you come... without even touching you down there."