While Junko waits for her turn, Bunni helps prep their important client with a sloppy blowjob. Special story preview from our large archive of erotic stories!
My Wild Night with Bunni & Junko
Art by Ecchi-Star!
Written by Hyperoptic
Standing outside the door of the stodgy looking club, I wondered what I had gotten myself into. It looked like my night would be spent with a bunch of balding, rotund Japanese businessmen sipping Scotch and smoking expensive cigars. I had agreed to go out with President Inoue to celebrate the merger of his Japanese company and my American company, but I had imagined that it would be in a more happening part of Tokyo. I was pretty disappointed when his driver had dropped me off here. I couldn't just back out, but I'm sure I could get out of it early if I played my cards right. With a last deep sigh, I entered into the club's lobby.

The dark and sparse entry room did nothing to calm my fears. There was a single solitary bouncer standing behind a statuesque mahogany podium. Clearly he was the gatekeeper to the entrance to the rear of the club, which was shrouded by a heavy red, gold embroidered velvet curtain. Cautiously, I approached the intimidating bouncer.

"Name."

"Ted Henderson."

The bouncer scanned through several sheets of paper. Finally, he looked up and motioned toward the curtain without saying a word. My hopes of not being on the list were dashed, but I nodded my thanks to the bouncer. Even in my wildest dreams, I couldn't have anticipated what I'd see.

When I drew back the weighty curtain, I was greeted by the sight of numerous gorgeous women in various states of dress. Most of them were outfitted in fine lingerie, but others were distinctly lacking clothing. A much smaller number were dressed in skimpy animal themed outfits. Clearly, I was in some sort of strip club, but I wondered what was going on with the animal outfits. Still, this was turning out better than I expected after all.

Scanning the crowd, I saw the expected balding, overweight Japanese businessmen were thoroughly enjoying the company of the girls. President Inoue was in a corner talking to one of the animal-costumed girls. The blue-haired rabbit girl was wearing a carrot orange bikini with white long gloves and stockings each topped with a garter having a hint of sunset colored ribbon. As I made my way toward them, she looked up and flashed me a smile. She stood quickly and strode purposefully in her sky-high white stiletto heels, her heavy breasts jiggling in the bright bikini top the entire time. She stopped to talk with a short, but fairly busty, brunette Japanese girl who I guessed was supposed to be a tiger. The shorter girl nodded excitedly, and they made their way through another door in the back.

Shaking my head at the exchange, I made my way over to President Inoue and bowed in deference. "It's good to see you again President. I wasn't expecting this when you invited me out, but I'm glad I came."

He laughed and bowed in response. "Just because I am an old man doesn't mean I don't know how to have fun, Mr. Henderson." He motioned to a seat on the sofa next to him. "Please sit. I have something special planned for you, but it will take time to get set up." As I obliged, a waitress in an emerald green bustier and stockings came to take my drink order. Before I had a chance to speak, President Inoue ordered a full bottle of expensive champagne for the both of us to share. The waitress, excited at the tip that was surely coming, skittered quickly to the bar. It wasn't long before she returned with the bottle on ice. The next couple of hours were a blur of alcohol, breasts, and lap dances. I didn't plan to ditch this party after all.

After quite a while, the blue-haired bunny girl came back to our table. "Everything is ready Inoue-sama. Would your guest care to follow me?"

I must have been gawking because President Inoue let a hearty laugh. "You want to follow Bunni-chan, I assure you. I have made sure you will not forget this night."

I swallowed and nodded before standing to follow her. Pausing briefly to bow in thanks to President Inoue, Bunni took me by the hand and led me by the hand to the door she had left through earlier with the tiger girl. Not long after we passed through the door, the music from the club faded, and Bunni turned and asked in perfect English, "Not from around here are you, stranger?"

Looking her in the eyes, I said, "Despite the hair, I could say the same for you."

She laughed heartily. "Oh, a dry one! I've missed that. Where are you here from?"

I raised an eyebrow. "Why should I tell you?"

"Well, for one, I'm not leaving Japan any time soon. For another, I ask because I don't get many Americans here. I miss the company sometimes."

"Well, I'm visiting from Chicago now, but I grew up in Iowa."

"It must have been nice to stay in one place. I moved all over as a kid. Clearly, you're here on business. President Inoue has been a member here for a long time. He's not cheap, but it's not often he drops the money he is on entertainment tonight."

I noted we had stopped outside a door, and she was waiting to open it with an coy smile on her face. "And what entertainment would that be?"

With a flourish, she opened the door and ushered me inside. The room wasn't very large, and almost all of the space was occupied by an enormous bed. Right in the center of the bed was the tiger girl. She was leashed to the head of the bed. Her outfit was much more contemporary. Well, as contemporary as a call girl's outfit would be. She was wearing a cut-off white shirt over a bikini top and a much too short skirt barely hiding her lime green panties. Her chunky multi-colored heels were barely worn and really stood out from her torn fishnet stockings.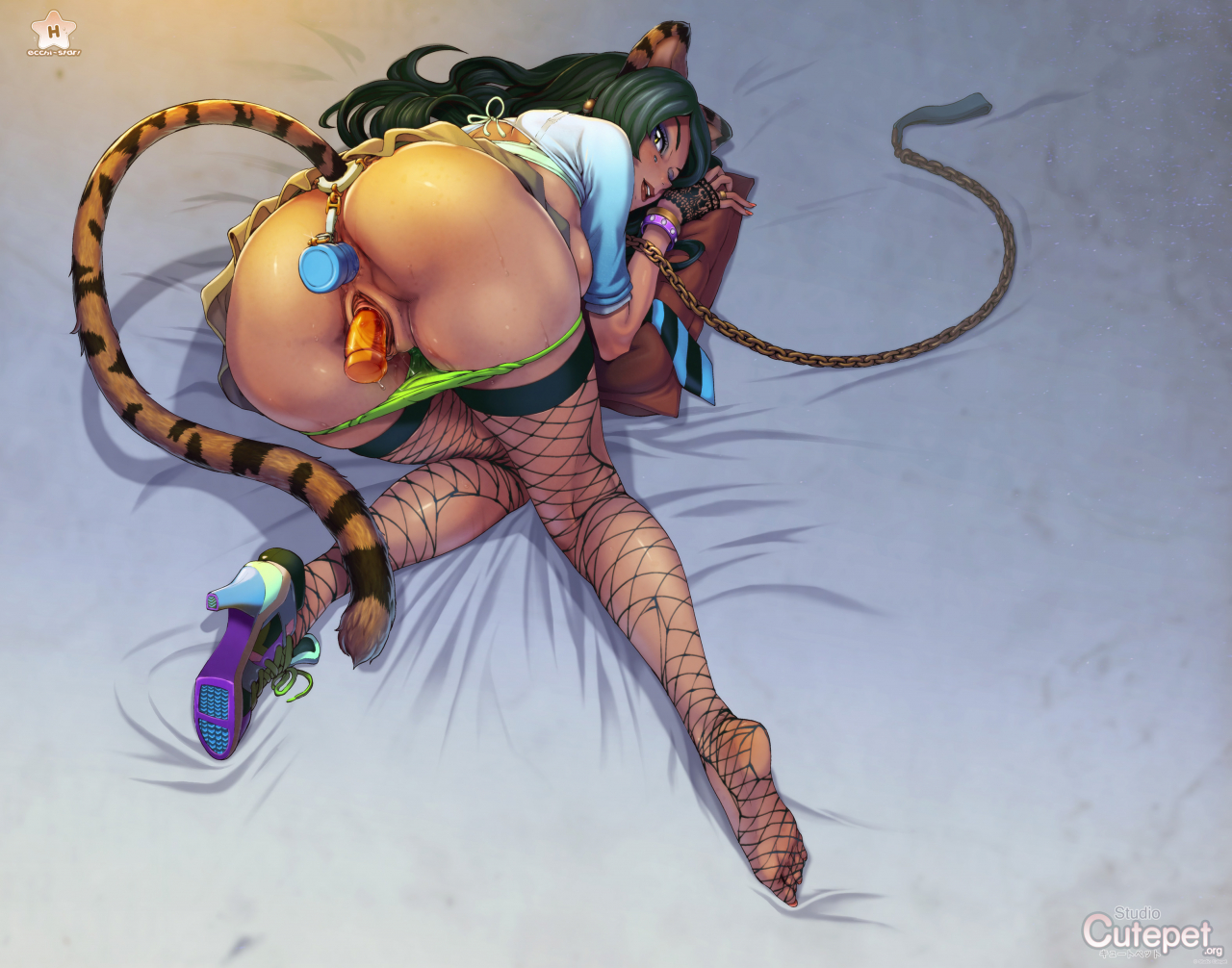 Click Image to view full gallery
Tiers who can view: Sliver | Gold | Prime

From behind me, Bunni said, "Junko here is only part of the entertainment." She strutted around me and strolled seductively toward the bed. Kneeling at the edge of the mattress, she got on her hands and knees and slowly crawled toward the tiger girl, wriggling her round ass the entire way. When she got to the tiger girl, she pounced on her. In nature, a bunny would never attack a tiger, but it was happening in front of my eyes.

Bunni aggressively kissed the tiger girl and slipped her right hand roughly underneath the girl's lime green panties. Even though she was being manhandled, the tiger girl seemed to react as if she liked it rough. She pushed back against the kiss with equal vigor and thrust toward the hand in her panties, trying to work Bunni's fingers deeper inside. A few exciting moments later, Bunni broke her lips away from the tiger girl's and said, "I'll get her all warmed up for you. I think you'll like spending time with this tiger. She'll do anything and I do mean anything."

After unhooking Junko's leash from the headboard, Bunni told her to flip onto her hands and knees. She pulled Junko's panties down to her knees and swatted her exposed ass hard enough to leave an angry red handprint. Leaving Junko where she was on the bed, Bunni crawled to a chest of drawers and pulled out a pair of dildos. She crawled back toward Junko and smacked her again, this time on the other ass cheek. The first handprint had faded, but the second one was far brighter, so it would be a while before her shapely ass was back to normal. Bunni took the sky blue silicone dildo she had just retrieved and shoved it deep into Junko's slick pussy. The rough treatment clearly had her ready to go. Judging by the bulge I had in my pants from watching the show, I was too.
Bunni grinned at Junko's moaning when she was penetrated by the dong. "Oh, my dear, don't think you're getting off just yet. That's for him to do. I'm just getting you ready for him." As if to tease her, she almost completely removed the dildo before shoving it back in. "I'm just getting this slick so we can slide it inside your tight little ass. We have to give him a choice here." As if to emphasize the point, she moved the dildo, now completely slick with the juice of Junko's pussy, quickly from one hole to the other. There was some resistance at first, but eventually her puckered asshole stretched to accept the slippery toy. To complete her preparations, Bunni jammed the other dildo, this one translucent and orange, into her now vacated pussy. "That'll do. Now you just get to wait."
Satisfied, she turned back to me. "Sorry to keep you waiting, dear, but I can see you've been enjoying the show, at least," she said as she motioned toward my straining jeans. "Do you want me to get that for you? We have the whole night. Let's just say I hope that you're...up for it."
It wasn't long into the play between the two girls that I realized what President Inoue was gifting me, and I also realized what set these costumed girls apart. These weren't just your average strippers, they were practiced courtesans. Since I was single, I had no problem sampling their arts. Matching Bunni's gaze, I nodded, and she slithered across the bed toward me. At first, she just caressed my raging erection through the fabric of my pants. Eventually, she was nuzzling her gorgeous face against it. Even through my pants, I could feel the moist warmth of her breath. It was all I could do to hold out. She was testing my limits.
After what seemed like forever, she undid the button on my pants and unzipped them. Since I was going commando, my cock sprung forth and almost hit her in the face. She slowly stroked my throbbing member and made solid eye contact with me. I could tell that she loved to be in control like this. A minute or so later, she broke the silence between us. "I could tell it was big, but I wasn't expecting it to be THIS big. You almost put my eye out with it! It's not often that I think I'll enjoy this more than my client."
Never tearing her gaze from mine, Bunni began to lick up and down my shaft. I knew she was a pro, but I was hardly prepared for the sensations I was in for. She focused on my shaft, but she would tickle the edges and tip of my cock head with rapid little flicks of her tongue each time she reached it. It was a shock to my system, and muscles tensed throughout my body in response. Her looking up lustfully as she continued licking my throbbing cock like a meaty lollipop certainly didn't hurt in keeping me on the edge of release...
Finally, she opened wide and slid my cock into her hot mouth. Stopping just past the head, she swirled her tongue around the edge and licked the tip and frenulum. It felt amazing! Even better, she still hadn't broken eye contact with me at all. Even though I was loving the sensation, I put the hand on the back of her head and pushed gently to urge her onward. Without hesitation, she swallowed my entire length all the way down to the balls. She held the position for almost a minute before coming back to get some air. "Is that what you wanted?" she panted. I was going to give her more time to recover, but before I knew it, she had buried her head again. After she pulled back for a second time, she plainly stated, "You know, if you want to fuck my throat, you can. All I ask is that you not waste that tasty mess. I LOVE it all over my face."
I took her invitation and pushed deeply into her throat. Even though she could  clearly handle me easily, the thrusting appeared to be too much for her. After only a little while she was gagging and coughing, so I withdrew. She pouted and shook her head, urging me back for more. I obliged without waiting. It wasn't much longer before I could feel my balls twitching, aching to let loose. As she had asked me to, I pulled back from her throat and let her know I was close. Knowing that I would need a bit more help, she milked my cock rapidly and opened her mouth to catch my load. It had been a few days since I had last cum, and I was so thoroughly aroused, so I knew this was going to be a monster. Soon, a thick rope of my jizz arced through the air, coating Bunni's tongue first. She latched on to my cock before the second wave of man milk spurted forth, and the sheer force and volume caused a little bit to come out of her nose. Recoiling, perhaps in surprise, the remaining spasms loosed spunk all over her face and breasts, which had somehow popped loose from the bikini during the action.
Gasping for breath, she smiled, not even bothering to clean off. Bunni crawled back over to Junko and kissed her deeply, sharing my load with her. Then, she grabbed both dildos, and began jamming them further into the waiting woman. Looking back over her shoulder, she said, "I know you need a little time to recover, but you'll be fucking both of these holes just like this later. You'll probably get both of mine, too. We're both animals in bed, so we'll drive you wild."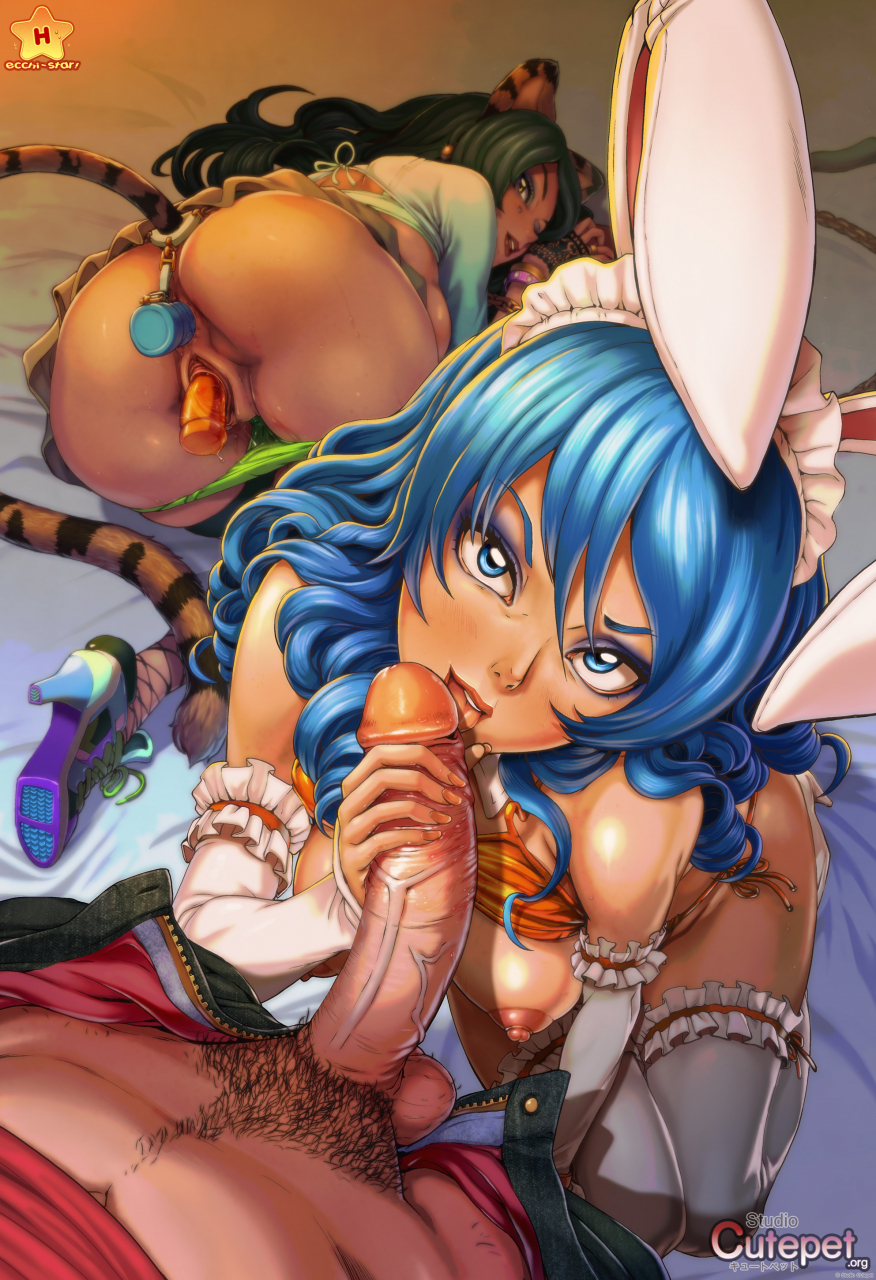 Click Image to view full gallery
Tiers who can view: Sliver | Gold | Prime
If you enjoyed this story about Bunni's sex-adventures and want more, be sure to check out the rest of our erotic fiction, exploring the sexual desires of Bunni and other original Cutepet girls, as well as popular game and anime characters!